KIMURA Unity Group
Since its inception in 1881 Japan, Kimura Unity Group has been dedicated to providing top-quality services to customers while maintaining top-of-the-line workplaces with first-rate teams of employees. We believe that our company exists for the customers and prospers together alongside our employees.
Placing a high premium on creating customer value and enhancing motivated personnel performance, Kimura Unity Group offers integrated services in four areas throughout the globe—logistics services, total car services, information services, and staffing services.
In our daily efforts, we seek to create new value and pioneering services that exceed customer expectations. We strive also to be a company where employees are fulfilled in their work and feel fully enriched with the spirit of teamwork, making our workplace a dynamic environment in which all team members are motivated to satisfy customers by working together as they provide genuine, friendly services.
Kimura Unity is committed to evolving further in the years ahead to provide genuine value to customers and end users.
Kimura Unity Group exists for the customers and prospers together alongside our employees. Overarching management guidelines are to…
Create customer value
Strengthen profitable foundations
Enhance organizational performance with motivated personnel
Maintain our actions and commitment to sustain an Eco-friendly environment and fulfill our corporate social responsibility
Based on the expertise it accumulated by providing services to customers in Japan, Kimura Unity Group expanded to other countries and broadened the scope of its businesses. In the USA, Kimura Inc. was established in Laurens, South Carolina, to provide services for a wide range of industries.
Company Name:
KIMURA, INC.
Established:
May 6, 2002
Capital:
$20 Million
Major Operations:
Warehousing, packaging, sequencing, delivery, steel container production
Employees: 270 (May, 2019)
Offices:
Piedmont, SC (Logistics)
Laurens, SC (Steel Container Plant)
San Diego, CA (Branch Office)
Dallas, TX (Branch Office)
ISO 9001 CERTIFICATE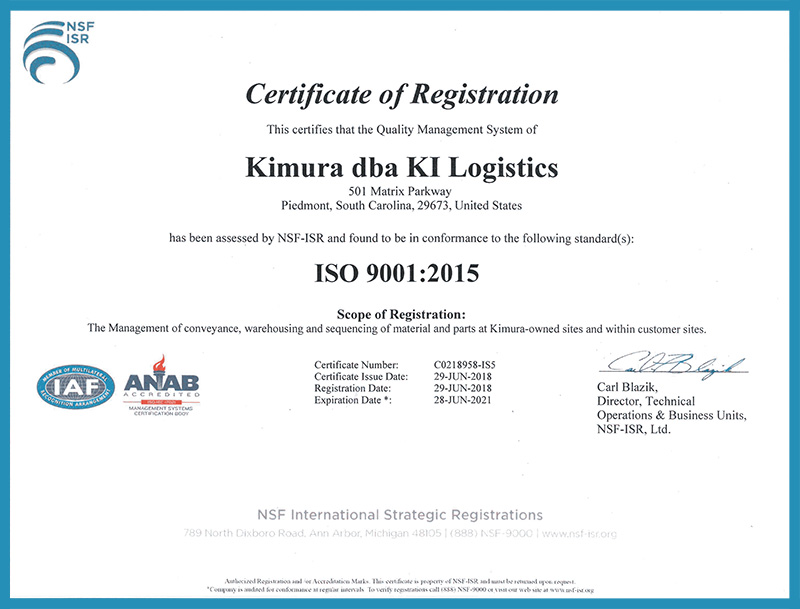 QUALITY POLICY